How Sweet Toronto Was in '69
Opening the Doors for fifty years of music festivals to come
Now that Woodstock's ballyhooed 50th anniversary has mercifully passed, here is a non-brown acid flashback regarding another music festival that almost didn't happen a month later but ended up becoming extremely memorable and noteworthy. Minus 400,000 or so additional attendees, mind you.

I am referring to the Rock 'n' Roll Revival, a one-off hullabalooza that took place on Saturday, September 13th, 1969 at Varsity Stadium. Up until then, the 20,000-person capacity venue was known primarily for University of Toronto athletic events and Grey Cup championship matches. But a 2-day "Pop Festival" that predated the vaunted Woodstock featuring the still-relatively unknown Band in addition to The Velvet Underground(!) set the scene for Toronto to be the saviours of rock and roll…for the first time at least.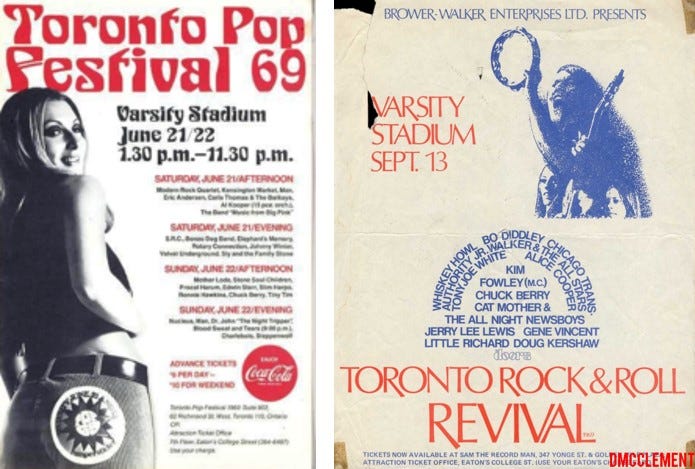 Toronto was home to not just one, but TWO momentous concerts in the Summer of 1969!

The Rock 'n' Roll Revival lineup had psychedelic stalwarts The Doors as headliners, along with a veritable diner's jukebox of performers (Bo Diddley, Chuck Berry, Little Richard) who broke barriers in the late-fifties by changing the blues into parent-adverse "jungle music". I guess fiddler Doug Kershaw was put on the bill to mellow out the crowd, who got so riled up during Alice Cooper's earlier set they tore a poor chicken to shreds, inadvertently cementing his shock-rock reputation. Country and its kissin' cousin rockabilly were prominently heard via Tony Joe White, Gene Vincent and the one and only Killer Jerry Lee Lewis, although I'm surprised the minor-marrier was allowed over the border. But what rescued the festival itself from potential disaster was some former Liverpool Moptop you may have heard of named John Lennon.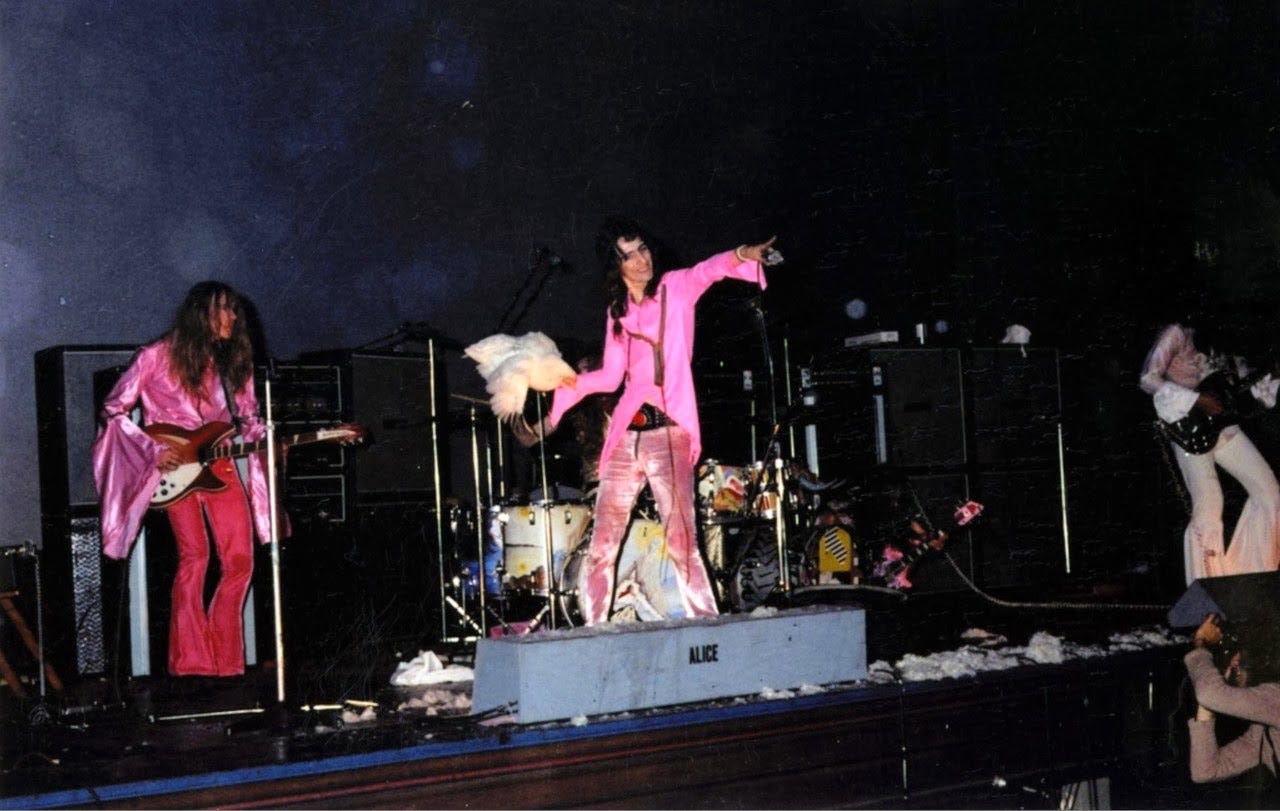 50 years prior to Chick-fil-A opening in T.O., Alice Cooper flung poultry at its citizens.

As urban legend has it, the shindig was on the verge of being cancelled altogether before Plastic Ono Band agreed to play their début show at the TR'n'RR. I wasn't alive yet, but I probably would have forked over the $6 ticket price just to see Jimbo Morrison in the flesh. Radio reports of Lennon, wife Yoko, Eric Clapton on lead guitar and the rest of his motley crew of musicians on route to Toronto apparently caused quite the rush of last-minute sales. As the supergroup were about to finally go on in front of a now full house, MC Kim Fowley encouraged the audience to light matches as a way of assuaging Lennon's stage fright…the first time that had ever been done in a rock environment. Oh, and there's also the little matter of the future Dr. Winston O'Boogie making up his mind to leave the Beatles during this whirlwind period, making the "Woodstock North" love-in all the more significant.
The whole kit and caboodle was filmed for posterity and released in documentary form as Sweet Toronto. Not that I would really want the life-shortening stress or physical threats to my well-being from artists who feel they've been screwed over, but if another Rock 'n' Roll Revival were to be attempted in 2019, who would you help me book? (No, I won't ask the Woodstock or Roxodus people for money!)
---
How Sweet Toronto Was in '69
(A ROCKthusiastically retrospective playlist)
Bo Diddley – Hong Kong, Mississippi
Chicago – Does Anybody Really Know What Time It Is?
Junior Walker & the All Stars – Shotgun
Tony Joe White – Polk Salad Annie
Alice Cooper – Don't Blow Your Mind
Chuck Berry – Sweet Little Sixteen
Jerry Lee Lewis – Whole Lotta Shakin' Goin' On
Gene Vincent – Be-Bop-A-Lula
Little Richard – Lucille
Doug Kershaw – Diggy Liggy Lo
The Doors – Light My Fire
Plastic Ono Band – Give Peace a Chance